Remote desktop allows you to access your computer from a different location, which is useful for people who are at work and need remote access (or someone else's) or those that want a second screen. Here's how to enable it in Windows 10.
Remote desktop windows 10 is a feature that allows users to connect to their computer remotely. This article will show you how to enable remote desktop windows 10 home.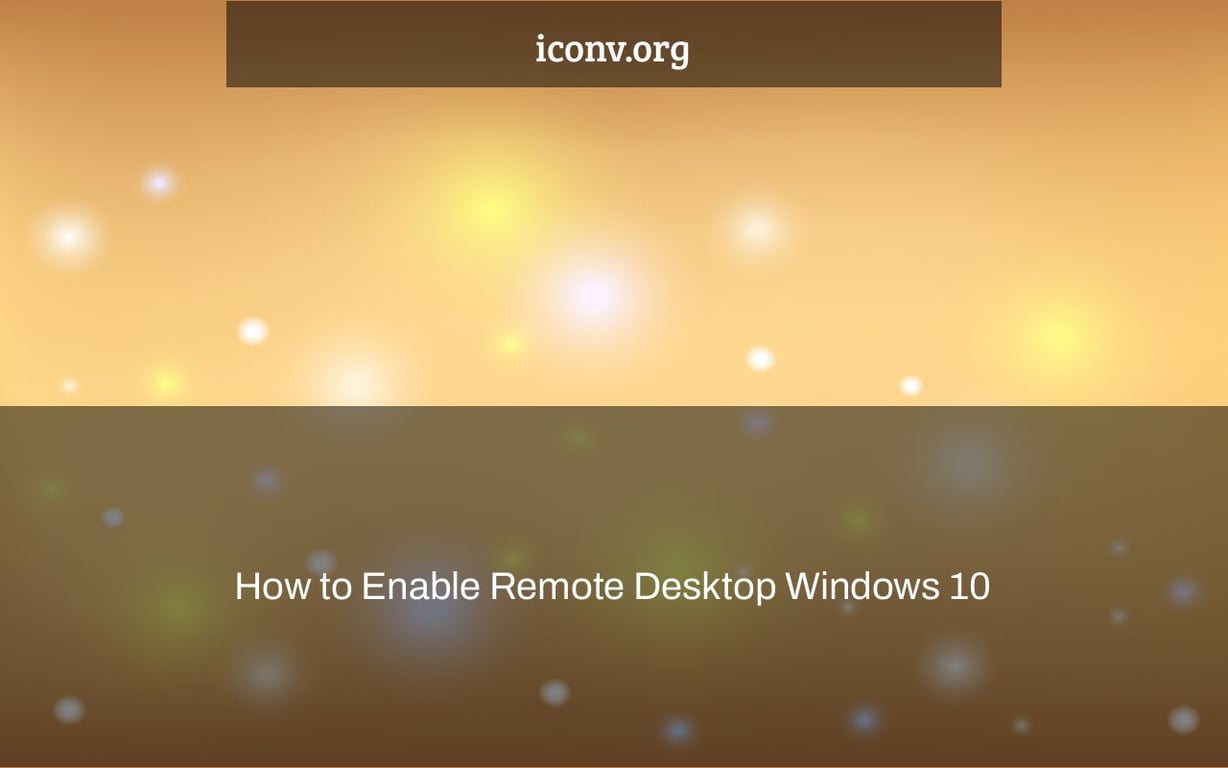 When compared to Windows 8.1 and 7, the remote settings in Windows 10 are somewhat different.
The remote desktop capability is handy for providing technical assistance from a distance.
To solve difficulties on your computer, you may connect to/from a friend's or expert PC, such as Microsoft technical assistance.
If an MVP in India has to troubleshoot a customer in the United States with a "windows update problem," the remote desktop capability comes in handy.
RDP (Remote Desktop Connection Protocol) is deactivated by default.
What is a Remote Host, and how does it work?
The computer that is now experiencing problems or the computer to which you want to connect.
This is the remote PC you wish to connect to in order to have access to its resources.
This PC is usually the one that hosts the remote session. When the Remote Desktop capability is on, you may view the computer's screen.
What is the definition of a remote client?
It's the computer to which you'd want to connect.
This is essentially a second computer at a different place from which you will connect to the remote host PC.
There are no concerns or problems with this. Any computer, such as Windows 10 Home Premium or Windows 7 Ultimate, may be used.
To enable remote desktop in Windows 10, there are two options.
Related: A Step-by-Step Guide to Using Remote Desktop in Windows 8
Windows 10: How to Enable Remote Desktop
Follow the instructions below.
To launch Windows Settings, press Win + I.
Select the "System" option.
Locate "Remote Desktop" on the left-hand side of the page.
The option "Enable Remote Desktop" may be found on the right-hand side.
Slide the slider to the On position. It will take on a blue hue.
You may enter the remote desktop settings in the "System Properties" box to fine-tune even more features.
There are two methods to get to this pop-up window.
The first method is to change the settings in Windows 10.
In Windows 10, for example, put "Remote Access" into the Cortana Search Box.
Simply hit the Win key and input the above search query in Windows 10 version 1909. This is due to the fact that in the most recent edition, Cortana and Search have been split.
You may choose "Allow remote access to your computer" from the list of search results.
This will display the "remote desktop" options in pop-up windows.
Control Panel is the second method.
The Control Panel may be used to reach the same window in this fashion.
This is the most important step in setting up remote desktop in Windows 10, 8.1, or 8.
Additional Steps to Enable Remote Desktop Settings
You'll see two choices when the "System Properties" box appears.
Assistance from afar
Remote Desktop
You must tick the option "Allow Remote Assistance connection to this computer" in the first item.
The option "Allow remote connections to this machine" must be checked in the second item.
The option "Allow connections only from machines running Remote Desktop with Network Level Authentication (recommended)" will be enabled automatically as a result of this.
If not, just activate that option as well.
There are some advanced options available in the "Remote Assistance Settings" when you click the "Advanced" button.
Similarly, you may add users to whom you wish to provide remote access to your PC or laptop under the "Remote Desktop" settings.
Simply pick the people in your network to whom you want to provide access by clicking the "Add" button.
The options shown above are for Windows 10.
You may use the approach listed below to activate remote desktop for Windows 10 Home edition.
Watch This Video-
Remote Desktop is a feature that allows users to connect to another computer over the internet. You can use Remote Desktop to access your computer from anywhere, or share your desktop with someone else. Reference: how to use remote desktop to connect to another computer over the internet.
Frequently Asked Questions
How do I enable Remote Desktop?
A: To enable Remote Desktop, go to Beat Sabers settings under the Settings tab.
Can not enable Remote Desktop Windows 10?
A: Yes, you are able to enable Remote Desktop on your Windows 10 device.
Related Tags
how to enable remote desktop windows 7
remote desktop windows 10 download
enable remote desktop windows server 2016
enable remote desktop windows server 2012
remote desktop client